National Trust of Guernsey aims to give folly new life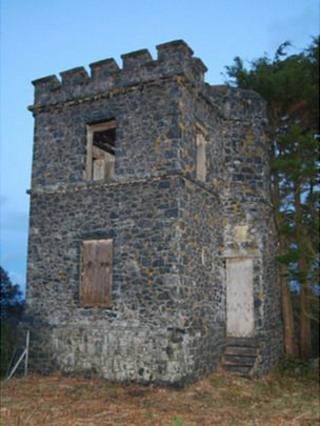 A mid-19th Century Guernsey tower could be given a new lease of life if planners agree.
Ozanne Tower in the Castel was built by the family of the same name for relaxing and to give them a great view over the island's west coast.
The National Trust of Guernsey hopes to convert it into a self-catering unit, which could be rented out to visitors.
President Martin Ozanne said it was an exciting prospect as it was the first time it had attempted such a project.
The square granite structure was built as a folly - a building built for pleasure - and the Ozanne family coat-of-arms is still visible above the entrance to the tower.
After the land was brought by the de Saumarez family, the tower became a museum containing objects from around the world, including a brick from the Great Wall of China.
It was used as a lookout tower for an anti-aircraft battery established by the occupying German forces.
There is also evidence the site may have been used for defence in the Iron Age, with pottery from 500-400 BC found in the area.
Mr Ozanne said: "We would be able to turn this back into the folly it once was and put it to good use.
"It puts a building of historical importance to good use and it will probably just about pay its way."
He said as well as renting it out, there were plans to allow islanders in to enjoy the view from the site.