Guernsey's National Trust aims to restore cider press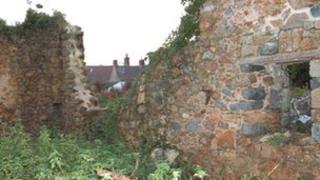 The National Trust of Guernsey has announced plans to restore a centuries-old cider press in the Forest parish.
The trust has determined that a barn at the rear of its farm at Les Caches originally housed a traditional press.
Martin Ozanne, the trust's president, said: "There's a lot of history here and we'd like to restore this building before it becomes further dilapidated."
The adjacent farmhouse, which has been dated to the 15th Century, has already been restored to its 19th Century form.
If its plans are approved by the Environment Department, the trust will begin by removing the cement capping that has already been put in place to avoid further erosion of the walls.
Mr Ozanne said the work was likely to take a considerable amount of time.
"This is not something that is done overnight," he said, "and you've got to make sure that you have the right tradesmen to put it right.
"The roof may well be put back in thatch or pantile to match what would have been here originally," he said.
Cider presses - or "prinseaux" in Guernesiaise - were commonly found in the barns of traditional Guernsey farmhouses but few have survived intact.
They were used to press the juice from apples which had been crushed in granite troughs called "tours".
When restored, the press will be available for visitors to view by appointment with the trust, in the same manner as the previously restored farmhouse.