Guernsey charities invited to apply for lottery grants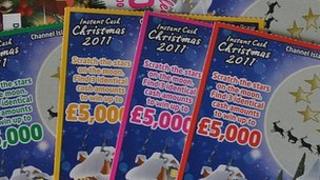 Charities in Guernsey have been invited to submit applications for grants from the Channel Islands lottery.
Malcolm Woodhams, the treasurer for the Association of Guernsey Charities, said large or small sums could be granted.
He said: "Charities may only need £400, £500, £600 but - for the work that they want to do - that's very important for them."
However, he said applications for £10,000 to £15,000 were common from some of the island's bigger charities.
"Every application has to be treated on its own merits," he said.
Organisations applying for funds are required to be registered with Guernsey's income tax authority and have to be a member of the Association of Guernsey charities.
Mr Woodhams said £213,000 had been granted to Guernsey charities from the proceeds of the 2010 lottery.
"The proceeds from all the tickets sold in Guernsey come to Guernsey charities," he said.
The first prize for the draw, to be made on 15 December, increases with ticket sales.
On Saturday, it was announced it had reached £711,000.