Guernsey wave and wind power research to start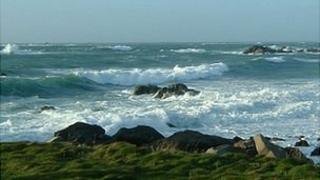 The States of Guernsey has teamed up with several UK universities on projects to investigate marine renewable energy.
The Renewable Energy Team (RET) has agreed "strategic and long-term alliances" with the Universities of Exeter, Plymouth and Cranfield.
Deputy Robert Sillars, the chairman of RET said: "Teaming up with leading universities has multiple benefits.
"Their expertise will assist the understanding of our marine resources."
He said: "Using high-quality postgraduate students and academics means we can stretch our modest budget, which is even more important than ever and still have first-rate research."
Dr Stuart Wagland, project leader for renewable energy at Cranfield, said: "Marine renewable energy is still very new and relatively expensive - it is an industry which will not happen overnight as careful planning and feasibility studies are required."
Fieldwork is expected to be carried out in 2012 with investigations into the potential renewable resources of wind, wave and tidal.