Open morning at former Bouet estate in Guernsey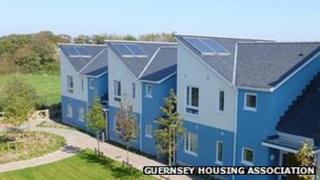 A new housing development offering social and affordable housing in Guernsey is to open to the public.
The Guernsey Housing Association (GHA) will showcase six new flats at the Rue Clouet development in St Peter Port on 26 November.
The development consists of 55 properties, 39 of which are for rent and the remaining 16 of which are for sale under a partial ownership scheme.
Housing Minister Dave Jones described the homes as a "landmark development".
The new development was constructed on the site of a former States housing estate, known as the Grand Bouet estate.
Deputy Jones said: "One of the reasons I entered politics was to improve the island's social housing and the Grand Bouet estate in particular.
"This area is being is being transformed for the greater wellbeing of people in our community."
Of the 55 properties, 28 will be taken by tenants nominated by the Housing Department from its social housing waiting list and a list of tenants in other States' properties.
The development has been built on land given to the GHA by the Housing Department.