Guernsey raises £7,000 for poppy appeal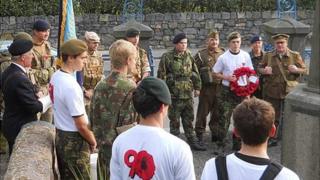 The annual poppy appeal in Guernsey has raised more than £7,000 and more is expected according to its organiser.
More than £5,000 was collected by volunteers carrying collection buckets over the weekend of remembrance events.
Organiser Andrew Henton from the island's Royal British Legion said it was expecting far more money over the next few weeks.
A team dressed in various period uniforms walked 20 miles and raised £2,000 for the appeal.
Those involved laid wreaths at all 10 of the parish war memorials and included current and ex-service armed forces personnel.
Military historian Russell Doherty, who organised the walk, said it marked a special milestone and the public support was brilliant.
He said: "This year was the British Legion's 90th anniversary so we wanted to do something to mark that.
"We had lots of encouragement on the way."