Channel Islands Lottery jackpot above £500,000 mark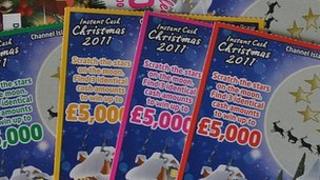 The jackpot for the Channel Islands Christmas Lottery has risen above £500,000.
The first prize rises in relation to ticket sale increases and currently stands at £504,000.
The 2010 first price was a record high of £750,000 with more money than ever going to charity.
During 2011 more than £400,000 of money raised from the 2010 lottery was donated to charitable organisations across the islands.
One of those to benefit was The Croft, a respite service for children and adults with learning disabilities.
Sue Aldwell, secretary of the Friends of the Croft, said: "We were totally thrilled to receive funding, it will make the most amazing difference to everyone that we help support.
"We were given £9,312, which we used to set up a sensory garden for the benefit of the 70 people that use The Croft.
"We also created a new pathway to allow disabled access to the garden."
The draw is due to take place on Thursday 15 December.