Flybe 'disappointed' by Guernsey Airport closures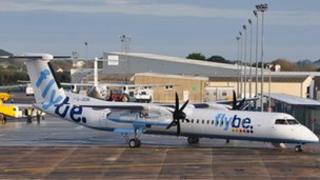 Airline Flybe has expressed disappointment at the forthcoming closures announced by Guernsey Airport.
Essential work to the runway will close the airport for four two-day periods in 2012, all on Tuesdays and Wednesdays.
A spokesperson for Flybe said the airline was pleased the work would be carried out, but felt being given four months notice was disappointing.
Guernsey-based airline Aurigny said around 250 passengers would be affected by the closures.
Its spokesperson said all passengers would be contacted and their flights rearranged.
The airline's finance director, Paul O'Donovan, said the closures could cost the company "a significant sum".
Flybe has announced it will be offering all of its affected travellers an alternative flight free of charge.
The dates for closures are 20-21 March, 8-9 May, 27-28 November and 4-5 December.
The dates were confirmed after a consultation with businesses and the public. Work will see the runway and other areas extended.
The airline Blue Islands will also be impacted by the closures but has so far been unavailable for comment.