Ten years of work produces Jim Delbridge's debut album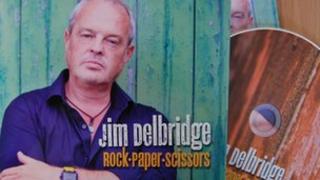 Jim Delbridge, a man well-known to many islanders for his work and music over the past 30 years, released his debut solo album in October 2011.
The album started life as a "vanity project" for Jim, working with colleagues Tim Bran and Nick Windsor.
Jim told BBC Introducing Guernsey: "I've spent my whole life writing songs but what have I got to show for it ... so I thought I'll release an album."
The record was released at a packed launch night at the Fermain Tavern.
The event saw Jim performing the songs live for the first time backed by 10 other musicians including Tim Bran and Nick Windsor on keyboards and electric guitar respectively.
The process for what became the album "Rock Paper Scissors" began in 2001 when Jim and Tim created the track "Tears" in Tim's studio over a couple of hours.
At that point though Jim said he was not seeing it as album project: "It was just some songs I wanted to record."
Since then Jim and producer Tim, along with a rotating cast of musicians have taken small amounts of time when they could find it to create the nine tracks on the final record.
Jim explained that in total they had probably spent a little under a month making the record - although that time was spread out over a much longer period.
The final session happened in early 2011 when Jim and electric guitarist Nick Windsor headed to the UK to meet up with Tim at his studio in what Tim described as "the most fun session" of the process.
He said: "We went into my studio and just played, it was really like the old days."
The album features musical styles that span pop from electronic sounds to Celtic folk influenced tracks.
Jim said the varied styles came from an "organic" writing process.
He said: "You feel it, you see who's available [to play any additional instruments] and go with it."
Jim said that the music he was writing had seemed to evolve over the long writing and production period with the earlier tracks featuring a more electronic feel than the more recent numbers, which have a more acoustic guitar-based sound.
The three main people behind the record, the aforementioned Jim, Tim and Nick, have a working relationship dating back to the 1980s and their time in the band Drop In The Ocean (which also released an album produced by Bran), and Jim said it was this long-standing relationship that led to the three working together on Rock Paper Scissors.
With one solo album under his belt, Jim has already started work on the follow up.
He said: "I don't want to spend so long on this one, I want to do it in one year."