King's Survey of Channel Islands book wins award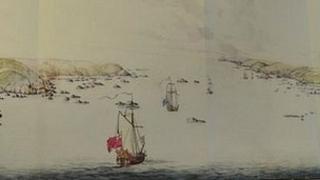 A book showing a 17th Century survey of the Channel Islands won an award at the 2011 British Book Design and Production Awards.
The book, part report and part pictorial atlas, contains numerous watercolours of the island's approaches, forts and harbours.
A copy of the Legge Report, which was presented to King Charles II in 1680, was released earlier this year after being restored by a team of historians.
Martin Morgan from publishers Clear Vue said it was delighted to win the "hotly contested" award.
He said: "We always strive to use very high quality traditional materials and the very highest level of craftsmanship... and we are very proud to have our work recognised."
The book was produced from the work carried out during the survey carried out in 1679 on the orders of King Charles II.
He was concerned there should be "a consultation of all the ablest pilots of Normandy and Brittany to know what ports the King of France might make useful to his fleet".
The survey team was led by George Legge, who later became the Earl of Dartmouth, and his fellow engineer Sir Bernard de Gomme.
Thomas Phillips, an artist, cartographer and military engineer, joined them and aiming to impress the king painted detailed colour washes to make the report stand out from the average military survey.
The text covers the ecclesiastical, legal and civil administrations of the islands including the Royal Charters, the Papal Bull of 1480, the roles of the Crown Officers and the standing orders for manning the garrison.
Many well-known Channel Island surnames feature in the lists of clergy, masters of the islands' vessels and the officers of the court.
There are three known copies of the survey, with the artist's originals held by the National Maritime Museum in London, the king's copy in the British Library and Guernsey's Royal Court holding the third.
Each is different, but the book combines illustrations from all three.
A proportion of the money raised from the sales has been put aside to set up a fund dedicated to the restoration and preservation of the manuscript collection held by the Royal Court.
One of the 275 editions is available to view in Guernsey's Guille-Alles Library.