Alderney aircraft crash: Search called off for man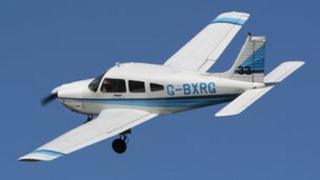 The search for a man missing since a private aircraft crashed in the English Channel has been called off.
The plane was carrying two people, named locally as Ian and Anne-Marie Dickinson, both aged 79, from the UK to Alderney when it ditched on Saturday.
Mrs Dickinson was airlifted to a French hospital after being found by a Russian merchant ship, the Jork Rider. She has since been discharged.
The French rescue service called off the search on Sunday afternoon.
Guernsey Police confirmed the couple were Alderney residents.
Lost radar contact
Mrs Dickinson was recovering in the care of her family after being treated for hypothermia in hospital in Cherbourg, police said.
She was found in a life raft by the Jork Rider.
Police said she was bearing up well after her ordeal.
The Piper Warrior aircraft, which is based at Alderney Flying Training Club, was en route from Lee-on-Solent to Alderney when the crash happened just off the coast of the island at about 15:50 GMT.
Air traffic controllers at Guernsey Airport first raised the alarm after losing radar contact with the aircraft.
Lifeboats from Guernsey, Alderney and Cap de la Hague, French Coastguard helicopters and Channel Islands Air Search were called in as part of the search operation on Saturday night.
Alderney lifeboat coxswain Declan Gaudion said: "By the time we did get to the scene, it was getting dark and the light conditions were not ideal.
"We had to use a search light and night vision equipment, but we did a search as best we could, given those conditions, for approximately three hours."
Plane's wheel found
Royal Navy offshore patrol vessel HMS Tyne assisted in the search on Saturday night.
Lt Cdr Will Peters, from the ship, said that those searching had found what they thought was one of the plane's wheels.
The search was stopped at midnight and had resumed at 07:00 GMT on Sunday, the Maritime Rescue Co-ordination Centre in Jobourg, France, said.
It was called off at about midday on Sunday.
No other wreckage has been found.
Officers from the UK Air Accident Investigation Branch (AAIB) are travelling to Guernsey to look at paperwork and speak to air traffic control staff.
Police in Alderney have impounded all of the plane's technical logs to ensure the AAIB has full access to them.