Disability campaigner Dave Purdy honoured with plaque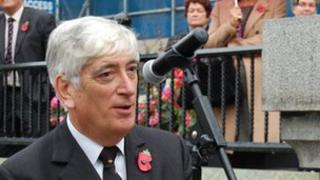 One of Guernsey's most prominent campaigners for disability rights has been honoured with a ceremony at a facility for which he campaigned.
The Bailiff revealed a plaque to Dave Purdy halfway up a paved, granite wheelchair ramp between St Peter Port's old market and Town Church.
About 100 people heard Sir Geoffrey Rowland pay tribute to Mr Purdy, a friend of his, who died in 2010.
He said: "He was a guy who was competitive and focussed."
"Those proved to be essential qualities that meant that he triumphed over adversity," he said.
"Dave was a very, very special friend. We were both very keen on sport and had an exuberance and zest for life."
'Spirit and influence'
Before unveiling the plaque, Sir Geoffrey told the crowd about his recollection of the accident in 1972 that led to Mr Purdy requiring a wheelchair.
"One evening I learnt of the fact that at Belvoir Beach, Dave, jumping into the water, had somehow hurt his neck and was seriously unwell," he said.
Mr Purdy's treatment involved a stay at Stoke Mandeville Hospital which specialises in spinal injuries.
"Dave came back, having in my view conquered adversity with the support of so many people and he set out on what would be an inspired life of achievement," the Bailiff said.
"He wanted to achieve something for others and it had to be trying to get a level playing field and equality for those who are disabled in this island."
The ceremony was attended by several members of the Guernsey Disability Alliance, who acknowledged the inspiration they had taken from Mr Purdy's work.
One member, Rob Platts, said: "Dave's calm and measured approach to disability issues is sorely missed but his spirit and influence are still very noticeable at GDA meetings."