Grant 'vital' to Guernsey outreach scheme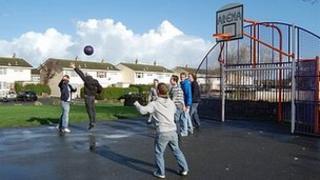 A three-year grant from BBC Children in Need has been vital to a sports outreach programme, Guernsey Sports Commission has said.
The commission was awarded a grant of £75,330 in 2009, which includes paying the wages of nine part-time staff.
They run street sports, a free sports activities scheme for 11-19 year olds, three nights a week.
"We couldn't run it without the grant, we really appreciate it," Jenny Rees, sports development officer, said.
"There are a lot of fundraising opportunities for Children in Need in the island but not many people apply for the funding.
"It's a fairly long process in terms of form filling and things, but it's definitely worthwhile."
Shirley Ann Parker, of the programme, said they run classes in a range of sports including basketball, football and dodgeball.
"Some of these young people might not have access to these sports, it helps keep them active and some of them have asked us how to get involved in a particular sport," she said.
"Because we hold the sessions where they live it's an opportunity for them to come together as a community to get that feeling of involvement and team spirit - and we try to promote that."
More than 100 islanders are involved in the scheme on a weekly basis.