Two Guernsey men jailed for importing heroin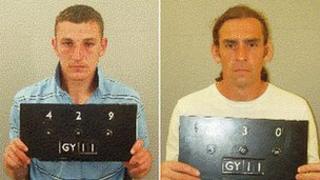 Two Guernsey men were given seven year prison sentences after importing heroin into the island by boat.
Michael Paul Scrimshaw, 28, and Matthew Henry Le Gallez, 40, were found guilty by Guernsey's Royal Court on Monday.
They were arrested by the Guernsey Border Agency after trying to import the class A drug on 25 March.
Scrimshaw was seen throwing a package from the rear deck of the Commodore Clipper ferry, which was picked up by Le Gallez in a small fishing boat.
His vessel, Coastal Warrior, was watched by officers as it stopped in the ferry's wake.
Cannabis in condom
Le Gallez was then seen mooring up at the Ozanne Steps in St Peter Port before going ashore.
After searching the area, officers found about 52g of heroin and 2g of cannabis wrapped in a condom.
The agency said the drugs had a street value of between £15,840 and £31,680.
Judge Russell Finch gave the men seven year sentences in relation to the importation of heroin - properly known as diamorphine, a class A drug.
He also imposed a one month sentence to each of the men in relation to the cannabis (class B), to run concurrently.