Guernsey waste strategy not on 2011 agenda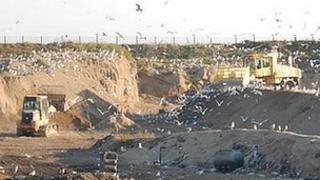 Guernsey's new waste strategy will not be debated by the States until February "at the earliest".
In an email sent to all deputies, the Public Services Minister Bernard Flouquet said a small scale incinerator was among the plans being considered.
Plans for an incinerator were agreed, then rejected, twice in the last 17 years, costing the States up to £12m.
The proposals are due to be discussed by the Waste Disposal Authority next week.
However, the States will not look at them until at least February, two years after the Public Services Department was asked to come up with a new waste solution.
The four proposals were finalised earlier this year.
In the email, Deputy Flouquet wrote: "Common to all are additional measures to target waste prevention, improved reuse facilities, and higher recycling.
"The subsequent residual waste treatment methods are on-island heat treatment (at a significantly smaller size than previously proposed), or export in one form or another, either to Jersey or another location."
The last time the States discussed building an incinerator more than 400 people turned out to protest against the move.
In July 2009, the States agreed to build a £93.5m waste-to-energy incinerator capable of dealing with 45,000 tonnes of rubbish a year.
In February 2010 those plans were thrown out.
In 2005, a decision to go ahead with a £72m project for a larger incinerator was also reversed.
The island's current plans for an alternative to putting waste in landfill is designed to last until 2022, based on current tipping levels.