London 2012: Guernsey Olympic torch relay 'chance in a lifetime'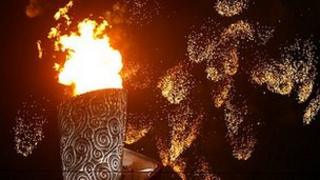 The visit of the London 2012 Olympic torch is a once-in-a-lifetime chance for islanders, according to the Guernsey Sports Commission.
The commission is co-ordinating the torch relay's visit to the island with the London 2012 Organising Committee.
Paul Luxon, of the commission, said: "We are delighted... the Olympics are the most important sporting event.
"It is an incredible privilege to host the flame and is not likely to happen again in anyone's lifetime."
'Welcome the flame'
He said: "The torch will only be with us for a short time on the morning of 15 July 2012, but we're determined to make the whole day a celebration of the spirit of the Olympics and of Guernsey sport."
Mr Luxon said: "Torchbearers will carry the Olympic flame through St Peter Port.
"Full details of the relay will be announced closer to the time, inviting people from across the island to welcome the Olympic flame.
"The Olympic torch relay will shine a spotlight on the people of Guernsey and demonstrate that the Olympic spirit is alive and well in our own community."
The 70-day relay representing peace, unity and friendship will see the flame travel around the British Isles by 8,000 torchbearers ahead of the opening ceremony on 27 July 2012.