Channel Island ferry completes journey to Korea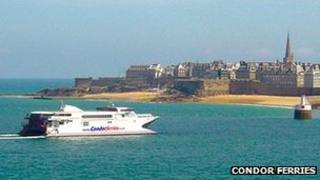 A former Channel Island ferry has completed a 5,000-mile journey after being sold to a South Korean company.
Condor 10 was the first car-carrying fast ferry to serve the Channel Islands when it started operating to and from Weymouth in April 1993.
In 2010, the 86m Condor Rapide was added to Condor Ferries' fleet and the 74m ferry was taken out of service.
The crew has now returned to the British Isles after completing the 25-day journey.
Ian Milner, Guernsey director at Condor Ferries, said: "The epic journey first took Condor 10 and the crew from Weymouth to a refuelling stop in Malta, then on to Port Said, Suez to Jeddah in Saudi Arabia and on to Colombo.
"From there the crew sailed to Singapore, and then to their final destination of Busan in South Korea via the Luzon Straight.
"The journey was a great challenge for the crew, who navigated some very difficult waters to deliver the ferry to its new home, so it's great to see them all back safely."