Guernsey Christmas stamps show off island photos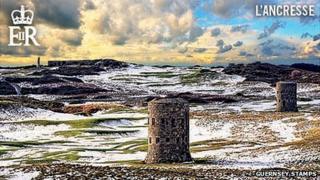 The work of seven photographers has been chosen for the 2011 Guernsey Christmas stamp collection.
A shot of L'Ancresse Common by Nigel Byrom was selected as the winning picture from the 568 entries.
It was the first time Guernsey Post had held a photographic competition open to all ages and abilities.
Dawn Gallienne, head of philatelic at Guernsey Stamps, said: "The response was overwhelming with some truly spectacular images submitted."
The other images selected for the winter wonderland issue were:
John Shakerley's image of the Forest Church
A Guernsey cow captured by Sarah Plumley
Festive St Peter Port by Karen Millard
Sue Daly's shot of La Coupée in Sark
A snowy St Peter's Church by Jason Bishop
Cobo Bay was Eric Ferbrache's winter wonderland scene
A separate edition was produced for Alderney with images of landmarks in the island given a Christmas make over by Guernsey design agency The Potting Shed.
Mrs Gallienne said: "We wanted to create a fantasy-looking winter wonderland for our Alderney stamps.
The images on the stamps have had atmospheric light and snow added to create an almost magical feel.
"The typography on the stamps is printed with a gold metallic to add to the festive feel."