Guernsey construction projects prompt closures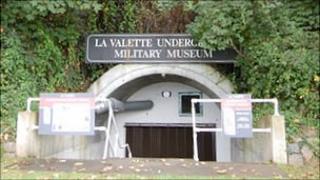 Two major projects being carried out in Guernsey will result in several closures for the next two months, the States has said.
Rock stabilisation work is being done at La Valette to manage the risk of rock falls and possible loss of the cliff path above the island's aquarium.
Work is also being done to alter the entrance to the Military Museum.
La Valette Road will close to vehicles from 31 October for eight weeks and the museum and aquarium will be closed.
The road will be closed between the gentlemen's bathing pool and the aquarium and only emergency and essential vehicles will be allowed access.
Restricted hours
Pedestrians will be able to access the bathing pools via the raised coastal path and steps on the south of La Valette Road cutting, but there will be no access to the cliff path near the aquarium.
The section of cliff path between Clarence Battery and the aquarium will be closed during the works.
The Environment Department said contractors would undertake soil pinning works and install rock catch netting to prevent soil and rocks slipping down around the aquarium entrance. Safety fencing will also be erected.
Rock stabilisation work on the cliff face has been ongoing for five years.
The aquarium itself will remain open, however the hours will be restricted for the first two weeks due to the risks and nature of the work being carried out above it.
The Military Museum is to have a new extended entrance and entry point so visitors can access it at road level and will be closed for the duration of the works.