Poppy appeal importance rising, says Guernsey president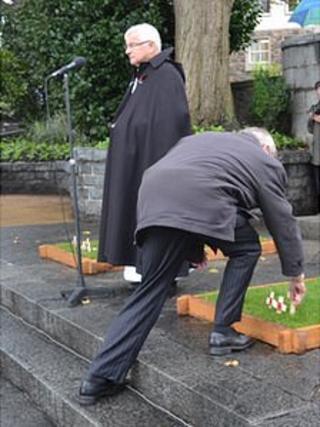 The importance of the poppy appeal has increased year on year since it started in 1921, according to the president of the Royal British Legion in Guernsey.
Major Eric Le Quesne said the annual campaign was a vital fundraiser for the legion.
He said: "Unfortunately in the sort of world we live in now, there's going to be continual conflict.
"So rather than lessening, the work of the Royal British Legion increases year by year and we rely on public support."
Major Le Quesne said: "Fortunately people in Guernsey are very generous."
Across the British Isles the legion is aiming to raise £40m to help past and serving members of the British armed forces and their families.
The Bailiwick of Guernsey Poppy Appeal was launched as the Bailiwick War Memorial, in St Peter Port, was rededicated ahead of the Remembrance Day and Remembrance Sunday services.
Canon Paul Mellor, the Anglican Dean of Guernsey, said: "Remembrance is still very important indeed, it calls to mind the cost of conflicts.
"The Royal British Legion's work seems to increase rather than diminish... the pulls upon their welfare for those returning from current conflicts are tremendous."