Guernsey Airport runway project contract signed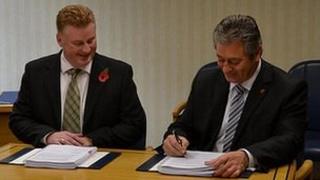 The States and Lagan Construction have signed a £55m contract as part of the Guernsey Airport redevelopment project.
Public Services Minister Bernard Flouquet and Lagan's managing director Colin Loughran were the signatories.
Planning approval for the work at the airport and a temporary dock at Longue Hougue for the import of materials was given earlier this month.
Deputy Flouquet admitted "some relief" the physical work could get under way.
In February Lagan were chosen ahead of tenders made by three other companies.
Mr Loughran said: "We're delighted, we set out on the road to this contract maybe two years ago.
"We're looking forward to a challenging project [and] the benefits we believe it will bring to the island hopefully in the long term.
"There has been a lot of work in terms of logistics for the airport but the fact is materials have to come to the island to be delivered to the airport.
"We'll do our best to keep the impact to a minimum."
The £80m project, the biggest capital project in the island's history, to refurbish the airfield includes moving the runway to the west and is expected to take up to two years.