E.coli-hit beach Cobo Bay's water quality improves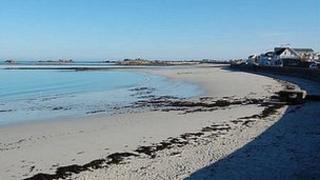 Water quality at a beach where an outbreak of E.coli was detected has vastly improved, according to tests.
The outbreak, near freshwater outfalls in the area, was seen as why Cobo Bay failed to meet European Union standards in 2010.
But, it has now got top rating in 19 out of 20 bacteriological tests by the States of Guernsey.
It is the first time the beach has achieved "excellent" ratings, since 1998.
Cobo was one of 11 Guernsey beaches rated as excellent.
The others were Bordeaux, Fermain, Grandes Rocques, Havelet, Ladies Bay, L'Eree, Portelet, Port Soif, Saints Bay and Vazon.
The two other beaches tested, Pembroke and Petit Bot, received good passes.
The beaches were rated after 20 samples were taken on a weekly basis, from May to September, with each rated excellent, good or poor.
Eighteen of the tests had to be rated excellent to achieve the top overall rating.
None of the tests in 2011 was given a poor rating.