201 Squadron standard passed to Guernsey Lieutenant Governor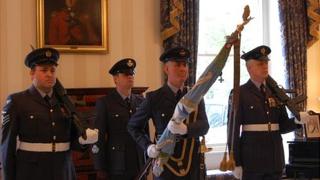 The standard of the disbanded 201 Squadron has been given to Guernsey's Lieutenant Governor.
Air Marshal Peter Walker was presented with the standard by a five-strong party of former squadron members.
The RAF agreed it could be kept in the island in recognition of the affiliation, which dates back to 1939.
AM Walker said: "It recognises the long affiliation between Guernsey and the RAF, but also it's something everyone in Guernsey should take pride in."
Sqn Ldr Andy Holden led the party which brought the standard to the island from RAF Kinloss.
He said: "It's unique, long-lasting affiliation and it's something that needs to continue.
"We do hope in the future the squadron will reform and the future officer commanding comes here to collect the standard and re-energise the affiliation."
'Personal privilege'
Sqn Ldr Holden said the island would always have "a special memory" for him and other former squadron members.
AM Walker said: "It's a personal privilege to have the standard hosted at Government House, but also I think it is very important for Guernsey.
"It's important we in Guernsey remember from time to time our association with all the armed forces."
He said the standard would be kept locked in a safe in Government House and would be used for events such as Liberation Day and the Queen's birthday reception.
AM Walker said he agreed with his predecessor over the decision to disband the squadron and the aerial reconnaissance role it carried out using the Nimrod aircraft.
AM Walker said: "For a maritime nation not to have a maritime surveillance capability that's airborne I think that is a mistake.
"When the dust settles on Afghanistan, and all the problems with the budget in defence, when we look at defence, our air and sea lines of communication are critically important and I'm sure the capability will come back and hopefully 201 Squadron will be back."