Guernsey 'prepared' for blockade, says harbour master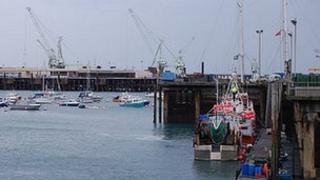 Contingencies are in place in case Jersey fishermen go ahead with a threatened blockade of St Peter Port, Guernsey's harbour master has said.
Jersey fishermen claim introducing a 12-mile limit around Guernsey would threaten their livelihoods.
Captain Peter Gill said the threat from Jersey meant a plan was in place, but to reveal details could jeopardise it.
The island's main harbour has been blockaded by fishermen before, notably in 1997 by a fleet from Normandy.
Currently there is a three-mile protection limit around the island, but a deal was agreed with the UK to extend it to 12 miles.
Jersey Fishermen have expressed anger they were not consulted while this deal was negotiated.