Alderney Gambling Commission criticised by poker player Tony G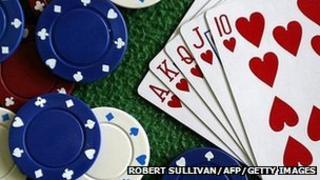 Alderney's Gambling Control Commission has been criticised by a world-class poker player and industry commentator over the way it dealt with a besieged US-run betting website.
Antanas Guoga, known as Tony G, said regulators failed to protect players.
It emerged earlier this year that Full Tilt was being investigated for money laundering and fraud in the US.
The AGCC said it could not have moved quicker to suspend Full Tilt's licences.
The online poker site was suspended from operating in June after the US investigation started and was revoked in September after a hearing held by the commission.
Mr Guoga said: "[The commission] had an obligation to those players and people. They are there to protect the young and the vulnerable and in my opinion they have failed to do that."
Andre Wilsenach, the commission's executive director, said: "We do have an obligation to protect players and we do so by keeping the industry free of crime to ensure the games the players play are fair
"Our operators do not exploit the young and the vulnerable.
"As far as players' funds go, we have never set ourselves up to underwrite these funds, no regulator in the world does that."
'Not taken lightly'
He said: "The problem is that if an operator wants to deceive you deliberately, he may be able to do so and may well succeed to do so for some time, it's happened before."
Mr Wilsenach said: "A decision to suspend and ultimately revoke a licence is not a decision that is taken lightly.
"We believed it was best to get rid of them as we didn't think they were suitable to hold a licence anymore."
He said a review was being undertaken on the commission's procedures, it was talking with other regulators around the world and the industry and it "would do what was necessary to see if we can improve the situation so players are more protected".