Baubigny Arsenal housing work completed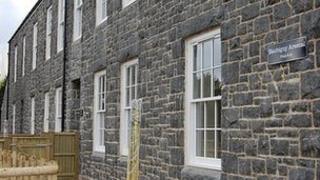 Work to modernise the social housing areas of a historic building has been completed by the Guernsey Housing Association at a cost of £1.3m.
The eight flats in the residential wings of the Baubigny Arsenal, in St Sampson, have been replaced by six houses and four flats.
Housing Minister Dave Jones said: "The old accommodation was cramped and outdated.
"It has been imaginatively transformed to provide two additional units."
Deputy Jones said: "The challenges of converting an existing building into more modern accommodation, while maintaining and enhancing its historic features, have been huge."
The Guernsey Housing Association is an independent not-for-profit company, which works in close partnership with the Housing Department.
Three quarters of the tenants will come from the department's waiting lists.
The arsenal was built in 1882 to accommodate soldiers, artillery and horses as part of the island's defences.
Part of the building is used as a store by Guernsey Museums.