201 Squadron standard to be lodged in Guernsey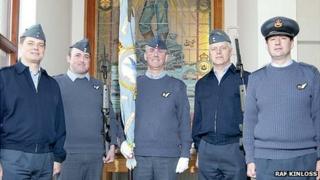 Former members of the disbanded 201 Squadron will present its standard to Guernsey as a symbol of its long-standing affiliation with the island.
Standards are normally lodged at RAF College Cranwell, in Lincolnshire, but the RAF made an exception because of Guernsey's links with the squadron.
The squadron became affiliated with the island in 1939.
Sqn Ldr Andy Holden said: "It is a fitting tribute that the squadron standard will remain here."
He said: "It means that, if in the future 201 Squadron is reformed, then the affiliation between Guernsey and the squadron can be resurrected."
201 Squadron was first formed in 1918 and became affiliated with Guernsey as part of a programme to link squadrons with different towns and cities around the British Isles.
The intention was to encourage support and recruitment for the RAF.
The squadron, which had flown the Nimrod aircraft since 1970, was one of those disbanded earlier this year followed the UK's defence budget review.
The standard is due to be handed over to Guernsey's Lieutenant Governor, Air Marshal Peter Walker, at a short ceremony at Government House, where the standard will be lodged, on Thursday.
Sqn Ldr Holden will represent the RAF at the ceremony and will be joined by four other former members of 201 Squadron; Flt Lt Dave Irvine, Flt Sgt Justin Morris, Sgt Simon Bliault and Master Aircrewman Keith Treece.
Sgt Bliault, whose father was born in Guernsey, said: "It is a real honour to be representing my old squadron.
"I spent six years with the squadron, and have many happy memories of my visits to Guernsey."