Guernsey sailing boats wash up on Belle Greve Bay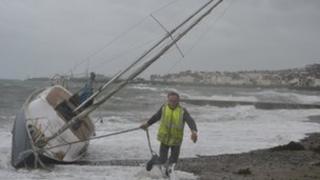 Two Guernsey sailing boats have broken free of their moorings at the Longstore as strong winds and a high tide combined along the island's east coast.
The first vessel, belonging to Dave Le Gallez, was washed ashore at Belle Greve Bay early on Monday afternoon.
Mr Le Gallez said there was little chance of securing the boat before high tide (17:16 BST) and sunset (18:02).
John Turville, who had been trying to help Mr Le Gallez, said "There'll be nothing left of it tomorrow."
As Mr Le Gallez struggled with his boat's mooring rope, Mr Turville told BBC Guernsey: "It'll be just gone - nothing he can do with it."
Shortly after 16:00 BST, a second boat broke free of its moorings from the same location and came ashore close to the first.
Captain Peter Gill, the St Peter Port harbour master, has warned boatowners to check their moorings, as strong south-easterly winds are expected to continue.