Guille-Alles offers internet novices free lessons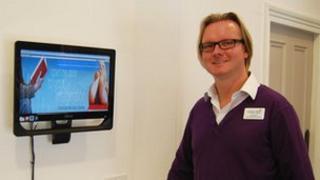 Guerney's internet novices are to be offered free tuition at the Guille-Alles Library in St Peter Port.
One-to-one lessons will be offered to anyone who wants to learn from the start or brush up on their skills.
Volunteers with internet experience are being asked to help, as part of the BBC's Give An Hour campaign.
With everyone gaining an hour as the clocks revert to Greenwich Mean Time on Sunday morning, it is hoped that some can find an hour to help others out.
Ed Jewell, customer services librarian, said: "It's great to be getting things started with the BBC and then launching an ongoing service."
The first lessons will be on Saturday between 10:00 and 12:00 BST.
Five staff at the library have already been trained to deliver the continuing service.
Several computers have been placed in areas around the library that are free for anyone to use.
Mr Jewell said he hoped islanders would begin to check new email accounts as well as renewing their books.
Throughout this week, as a first task for those learning new skills, islanders are being encouraged to email the title of their favourite book to the library.
The address is ga@library.gg - and a one line review can also be added.