Deputy Brehaut in Salerie Battery fishing call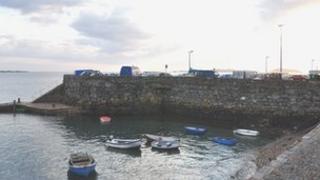 Fishermen will be guaranteed the right to land catches and keep small boats at the Salerie Battery, if a St Peter Port deputy gets his way.
The site has become an unofficial extension of the nearby car park.
The Environment Department will this week request a law change so it can regulate parking with timed zones.
However, Deputy Barry Brehaut wants "to reclaim it for its original use, along with parking for push-bikes and motorcycles".
'Pretty and distinct'
Deputy Brehaut has placed an amendment to the proposed legislation to that effect.
If adopted by deputies at their meeting on Wednesday, it will reserve the area "for the parking of motor cycles and pedal cycles, whilst at the same time retaining the facility to over-winter small vessels and to manage catches landed from boats".
Deputy Brehaut told BBC Guernsey: "It is a pretty and distinct little harbour. It's quite a special place.
"Just because we pass by it and don't spend so much time here, doesn't mean we have to concede everything to the car."