Guernsey horse racing course criticised by Animal Aid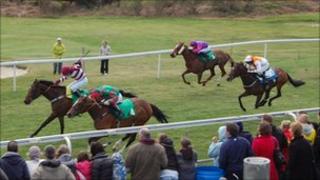 A Guernsey horse racing course has been criticised by a UK animal welfare group following an inspection.
Dene Stansall, of Animal Aid, said the route at L'Ancresse Common in the north of the island was not fit for purpose.
He said: "It's outdated, its ground maintenance is very poor... it's very unsafe for the horses that are running on that course."
The President of the Guernsey Race Club at the time, Jim Jamouneau, said the course was safe and had been inspected.
He told BBC News that the club was supported by the GSPCA and the course was approved by the Jockey Club.
'Very dangerous'
Races take place annually in Guernsey and the event in 2011 saw one horse put down after suffering an injury to its leg.
Mr Stansall told BBC News: "The short bends that make up the course means it's very dangerous for horses, jockeys and indeed spectators.
"The course is only seven metres wide and spectators are right up on the rails."
He said the course in Guernsey did not meet European race course standards.
The 2011 event was eventually called off after two races in the interest of the animals' safety, following extensive downpours.
Calls were made at the time by the Horse Welfare Guernsey group to have local horse racing banned.