Superman fan film 'a dream' for Guernsey director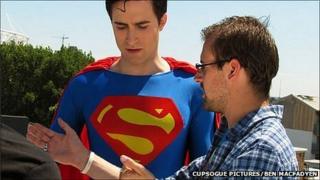 A new feature-length Superman film premiering in London in November has been directed by a Guernseyman.
Gene Fallaize, 26, directed Superman Requiem, a fan film where the super hero loses his powers and must regain them.
He said: "It's something I've always dreamed of doing as a filmmaker and an individual.
"Fans all over the world have had such a massive interest in it, it's spiralled into this much bigger project than was ever envisioned."
Mr Fallaize said the difference with a fan film was copyright.
He said: "Normally on a film production you retain the entire rights, chain of title, all that stuff.
"Whereas on a fan film, because the rights are owned by Warner Bros, and they are currently out to David S Goyer for the big Man of Steel, the only way to avoid spending millions on the rights is to make a fan film.
"However, it does mean nobody can make any profit from it."
He said all the cast and crew were professionals and that they had called in favours from across the film industry.
The 18-month project is being premiered at Covent Garden on 11 November with the proceeds donated to the Christopher and Diana Reeve Foundation.
Mr Fallaize left the Bailiwick in 2001 after attending St Sampson's Secondary School and had his heart set on a career as a radio presenter after doing work experience at hospital radio and BBC Guernsey.
However, his career led him into television production and on to the film industry.
He has worked on 14 other films and his second as director, a romantic comedy called Let's Just Do It, is due to be released in 2013.
Mr Fallaize said his next project was due to get underway in the new year: "We start the first part of a big budget trilogy with a Lords of the Rings feel to it, so that's pretty exciting."