Guernsey hamster owners warned over speedy breeding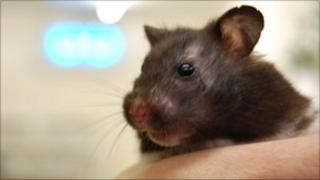 The GSPCA has issued an appeal to the Bailiwick's hamster lovers after being inundated by the fast-breeding rodents.
Steve Byrne, the charity's manager, said he was contacted by the owner of a pair of Syrian hamsters after their brood quickly grew to 34 animals.
He said this had come as a surprise to the owner, after they were told the pair were of the same gender.
Mr Byrne said: "One or two pets can end up in dozens and, if it had been left any longer, hundreds."
He said: "Unfortunately there's no legislation really regulating pet shops, so children and adults alike can go in and buy a pet quite easily.
'Mad house'
"They can take these pets on and then end up in a situation like this."
Emma Trousdale, the charity's welfare officer, said the sudden arrival of so many hamsters had caused considerable problems.
"It was a bit of a mad house," she said.
"We're still in need of quite a few cages. They weren't easy to sex and I've never done it personally, so I had the book open and everyone was hands-on."
She said: "Some of them started giving birth within an hour of coming into the shelter."
Ms Trousdale told BBC Guernsey the identity of the pet shop in this particular case was not made known to them.
Mr Byrne said: "We need to educate the children of the island and adults need to be responsible as well, because it's the adults allowing the children to have these pets that's causing the situation."
However, despite the warning, Mr Byrne said he was actively looking for islanders to take on the hamsters as pets, because there is not enough space for them at the charity's centre in St Andrew.
"A lot of the females still may be pregnant but we are appealing for people to come forward that are interested in taking on a hamster," he said.
"We need them to be mindful of what they're doing but they are looking for homes."
Sue Vidamour, the founder of Animal Aid, said she was frequently presented with hamsters that had been abandoned.
"We hate the fact that hamsters are on sale to children because they sleep all day and are active at night.
"They're totally unsuitable."