A Guernsey farm applies to the EU to export bull semen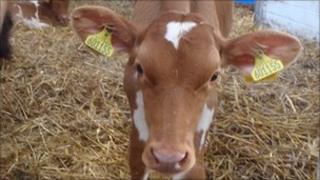 A farm has applied to the European Union for permission to export semen from Guernsey cattle around the world.
Home Farm, in Guernsey, wants to be able to send the substance to countries that rear the breed, such as America.
Current regulations mean cattle and semen can only be exported to the UK.
Ray Watts, the president of the World Guernsey Cattle Federation, said semen had already been exported to the US by a farmer in the UK. He wants to see Guernsey farmers able to do the same.
He said: "We get a lot of inquiries for that, but obviously we can't meet that demand unfortunately because of ... the rules and regulations we've got here."
Mr Watts told BBC News that the island will host the World Guernsey Cattle Federation conference in 2013, and said he thought about 75 delegates would be visiting from the USA.
He said the island would use the opportunity as a "shop window" to display cattle and local farms.
Mr Watts said all Guernsey cattle around the world have originated from the island.