Beachwatch survey needs Guernsey volunteers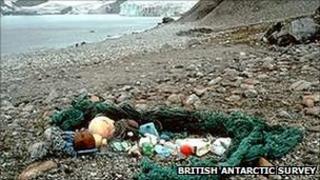 Volunteers are needed to take part in the annual beachwatch survey in Guernsey.
The Marine Conservation Society survey has been organised locally by the States Environment Department.
Volunteers are being asked to clean up the island's beaches on 17 and 18 September, recording the debris found.
The information helps to guide national policy on tackling the problem of marine litter.
Many beaches already have teams in place for the annual beachwatch, but more volunteers are needed for Bordeaux Harbour, La Fontenelle, Ladies Bay, Le Picquerel, Les Pecqueries North, Vazon South (Richmond) and Perelle.
Plastic ingestion
The results of the survey will be published by the Marine Conservation Society.
Last year, 29 beaches were cleaned by volunteers taking part in the survey.
The society has said the deaths of many dolphins, porpoises, seals, turtles and whales have been caused by entanglement in discarded fishing gear or ingestion of plastics.
Marine litter has been recorded across the world, included in Antarctica.
Anyone willing to take part in Guernsey's beachwatch should contact the Environmental Services unit.