Aurigny makes cuts to Alderney-Southampton flights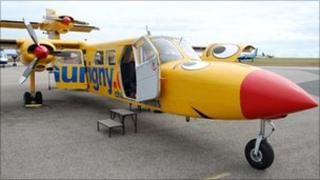 Bailiwick-based airline Aurigny has announced it will cut the number of flights between Alderney and Southampton.
In a letter to residents, the company said it intended to remove 4,000 seats from the service, and add 13,500 on the Alderney to Guernsey route.
The letter, signed by managing director Malcolm Hart, said the airline aimed to increase visitors to the island.
The Alderney Chamber of Commerce strongly criticised the move.
In a written response to the States-owned airline, it said: "We trust Aurigny remains aware that this is also a lifeline route for local business".
It also asked: "Is government pressure being applied to Aurigny?"
In its letter to Alderney residents, the airline said the Southampton route was its most expensive, and it had looked into what alterations could ensure profitability and continuity.
The withdrawal of Blue Islands in May 2011 left Aurigny as the only airline serving Alderney.
It currently flies from Alderney to Guernsey and Southampton, and uses a fleet of Britten-Norman Trislander planes for those routes.