Guernsey man begins attempt to be oldest to swim Channel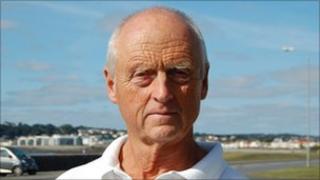 A Guernsey resident hoping to be the oldest man to swim the English Channel has begun his journey.
Roger Allsopp left the island on Friday to begin his record-breaking attempt, which will raise money towards a cancer-research unit in Southampton.
At 70 years and four months of age, Mr Allsopp is hoping to beat the previous record age of 70 years and four days.
He first swam the Channel in 2006 and is aiming to complete his latest attempt in about 15 hours.
Mr Allsopp secured Derek Coates, the chairman of Healthspan, as a funding partner for the attempt.
Healthspan has hosted a blog for Mr Allsopp, which details his training and latest updates.