Alderney astronomer to seek benefits of dark sky status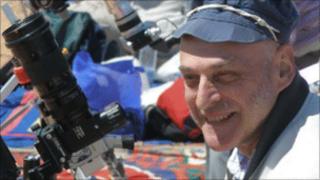 An Alderney astronomer has set his sights on "dark sky island" status.
In January, Sark was recognised by the light pollution campaign group, the International Dark Sky Association, because of its clear night skies.
Michael Maunder, a member of the British Astronomical Association, said he would use his connections to promote Alderney's claim for similar status.
"I'm going to connect with all the people that are involved in the dark sky campaign in England," he said.
"It's got to the point where I think we need to do something about it."
Mr Maunder argued that Alderney could generate increased visitor numbers if it gained dark sky status.
"There's a 'star party' almost every weekend somewhere in the UK," he said.
"When the street lights go off, there are huge areas where there's virtually no light of any sort."
In addition to a lack of light pollution, Mr Maunder said a smooth "lamina flow" of air over the island from the Atlantic meant astronomers could star-gaze in clearer conditions.
"Sometimes the stars don't twinkle at all, simply because the area's very clean with air moving in a steady state - not tumbling," he said.
Mr Maunder, who has been involved in UK campaigns against light pollution, has co-written books with Sir Patrick Moore on eclipses and planetary transits.