Guernsey musician James Farrimond to play London 2012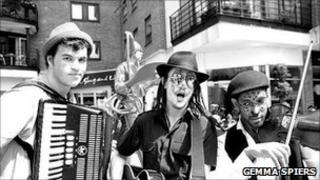 A Guernsey musician has won the chance to entertain the crowds at London 2012.
Accordionist James Farrimond and his band, Ze Trio, came second in the Greater London Authority's Busk Off.
As well as playing in the Olympic Park, the band's prize entitles them to perform on the Eurostar to Paris and work with a professional producer.
The 22-year-old said: "It was a tough panel of judges. There were five of them and they were really high up in the music world."
All three members of the band are music graduates and Mr Farrimond said they were thrilled by the opportunities thrown up by the Rhythm of London initiative, of which the Busk Off is a part.
"It's so hard to try and make it," he said, "especially in London, because there are so many brilliant bands.
"So to be able to have this opportunity and do well from it - and now have these platforms to build up - is very exciting."