Campaign to highlight ambulance funding shortfall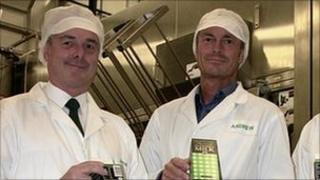 A new advertising campaign has been launched to try to help Guernsey's St John Ambulance and Rescue Service meet a 25% shortfall in its funding.
Last year, the service received £2.1m from the States with the remaining £1.6m of its running costs coming from public donations and subscriptions.
Chief Officer, Jon Beausire, said the system was one of "user pays".
He said anyone without a subscription or insurance who needed to use the service would be charged.
The Guernsey Dairy has agreed to carry advertising on its one-litre skimmed milk cartons for free.
'Hugely valuable'
Andrew Tabel, Guernsey Dairy's general manager, said: "I believe that many local people are unaware of the annual shortfall in funding.
"If this initiative can raise the awareness, understanding, and number of subscribers to the scheme then we are delighted to be of assistance."
Mr Beausire said: "An initiative such as this is hugely valuable to us.
"The grant we get from the States pays for about 75% of the cost of running the road ambulance service.
"Other services such as paramedics, Flying Christine, inshore rescue, the cliff rescue team and the hyperbaric treatment centre are provided free and rely on the generosity of the public to help fund them."
Earlier this year the St John Ambulance and Rescue Service celebrated its 75th year in the island.
The service provides ambulances, specialist land and sea rescue teams, a minor injuries treatment room and a health care equipment centre.
Guernsey has no state run ambulance service and most people pay a subscription or insurance to access the St John service when needed.