Complaints over Guernsey Festival's noise levels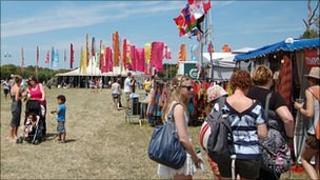 More than 100 residents complained to police about noise levels at the Guernsey Festival of Performing Arts held at the weekend.
Readings taken by the Environmental Health Unit found the noise levels on Sunday broke the 65 dBA limit set by the Guernsey authorities.
Tony Rowe, the unit's deputy chief officer, said organisers and police were told about the breach at the time.
The festival organisers have been unavailable for comment.
Mr Rowe said: "That level was set according to the code of practice based on outdoor festival and stadium events, there's a nationwide code of practice that governs all events from Wembley and Glastonbury down to little festivals.
"It's deemed to be a reasonable level for this sort of event."
He said there would be a post-festival meeting between the organisers and the authorities and noise would be among the issues discussed.