'Success secures' Sark Folk Festival's future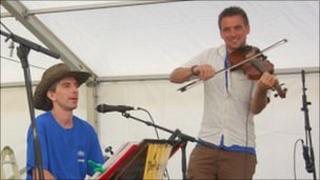 The Sark Folk Festival has cemented its place as an annual island event after the success of its second year, its organisers have said.
Guernsey-based Simon Harvey, one of the 10-strong committee, said: "It has definitely become an annual event now."
He said they have started to book acts for the next festival from 29 June to 1 July 2012 and the line-up would be announced shortly.
More than 1,500 people travelled to the island for the three-day event.
Tickets sold out weeks before the event and surrounding hotels, guesthouses and campsites said they were fully booked.
Mr Harvey said: "The feedback we've had from the locals is that they love it, it's obviously great for Sark's tourist industry and all of the locals have been so welcoming - they've done their island proud.
"Last year at this time we were all saying to each other 'how can we top that?' We had a fantastic festival and somehow we've done it.
"The weather has been on our side of course, it's been glorious sunshine all weekend."
More than 50 acts, including islanders and acts from as far afield as Northern Ireland and Australia, performed in a variety of folk and roots styles.
Mr Harvey said: "Before we put on the first festival last year one of our aims was to get people excited about folk music as typically people have a fairly boring opinion of it.
"On Sunday night we had 1,000 people in a marquee bouncing up and down to bagpipes and drums and it was absolutely amazing to see that."
He said tickets for the 2012 festival will go on sale on 1 November.