Sark Folk Festival could treble island population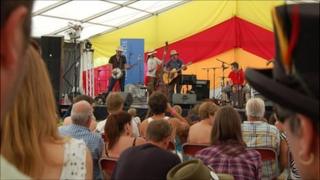 Sark's population of 600 could triple this weekend as 1,200 music lovers are expected to travel to the island for the Sark Folk Festival.
The three-day event was first held in 2010 and this year demand has outstripped supply, with hotels, guest houses and campsites full to capacity.
Julie Barker, of Sark Tourism, said the festival had given a great boost to the visitor industry.
She said: "I think it's going to have a great effect."
Ms Barker said: "Obviously we've had great weather since April, so we've had a very busy season up to now, compared to last year.
"All the hotels, bed and breakfasts and campsites are all full to capacity which generally wouldn't happen this time of year.
"Also the shops, restaurants and cafes are going to benefit greatly from the folk festival weekend from all the business."
The event, which runs from 1-3 July, includes acts such as 6 Day Riot, Lloyd Yates, Emily Smith, Breabach and Sark's own Big Sheep.