Guernsey archaeologists resume work on airport site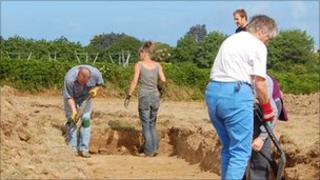 A Stone Age site in a field beside Guernsey airport is being excavated for the last time by archaeologists.
Evidence of neolithic settlement has already been found at a depth of 60cm (24in) but the site is due to be buried under an extended runway safety area.
If plans are approved, the site at La Mare Road will become permanently inaccessible for any further study.
Dr Phillip de Jersey, the island's archaeology officer, said: "There's never going to be another chance."
"That's why we're back again," he said.
"What I'd really like to find are traces of actual houses. But you never know - that's one of the joys of archaeology."
Hearths, post-holes and ditches have been found and dated to about 3,000BC, which equates to what archaeologists term the "middle neolithic".
However it seems likely that the site remained in use until the bronze age - in about 1,500BC.
While other sites on the island show evidence of burials from this period, the airport dig is unique in uncovering a large plot of land where people lived or worked.
Among the finds unearthed so far are a serrated flint cutting tool made from a locally sourced beach pebble, a polished stone ring and a bronze age pot.
It has yet to be established whether a fragment of amber flint once formed part of a dagger. If so, it could suggest the settlement was wealthy and had trade links to the Loire valley.
Nevertheless, Dr de Jersey said this would be an exception.
"The overall impression given is that this was a fairly poor community," he said, "without access to metal work or many prestigious items."
"It is rare," he said of the site. "What I'd like to do is finish it all this summer, while the planning application is being considered."