Guernsey Water aims for 'minimum' sewage investment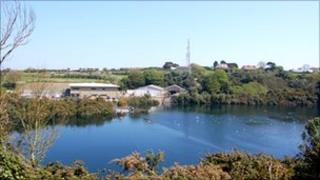 Guernsey Water's director of water services says he wants the company to spend as little as possible on investment in new sewage treatments.
Andrew Redhead said high capital investment and running costs could be a "millstone round the community's neck".
He said: "We want to make absolutely sure we spend the minimum amount."
The company's latest quarterly bills include for the first time charges for water disposal and an investigation into future sewage treatment.
This follows a move by the States of Guernsey in 2010 to switch the cost from taxpayers to water customers.
The new wastewater rate is based on the amount of water used - if metered - or else the size of the customer's property.
Meanwhile a separate charge of £50 a year for every domestic or commercial customer will be ring-fenced for an investigation into future sewage treatment.
This will be collected between April 2011 and the end of March 2015.
Mr Redhead said this would look at "the environmental considerations, to see exactly what form of treatment is appropriate and necessary for Guernsey".
The company said it had received approximately 2,500 queries about the new charges.
It also warned that the amounts being charged on future quarterly bills would be significantly higher, as the new charges were introduced shortly before recent bills were sent out.