Guernsey prehistoric site to be excavated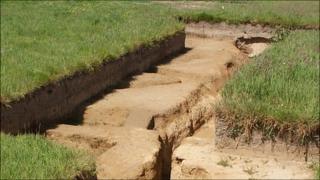 Guernsey States' archaeologist hopes to get a better understanding of early prehistoric settlements in the island with a major new excavation.
The study is being carried out ahead of work to extend the runway safety areas at Guernsey Airport.
The site will be raised by 2-3m (7-10ft) during the work.
Dr Philip de Jersey said the Neolithic and Bronze Age settlement could provide a valuable insight into some of the island's earliest inhabitants.
'Poorly understood history'
Evidence of a settlement in the field next to La Mare Road, dating back to around 2500 BC, was discovered during initial investigations in March 2009.
Dr de Jersey said that while a number of burial sites from the same era had been discovered, this was a rare example of early prehistoric settlement in Guernsey.
Further excavations involving museum and Public Services staff are expected to build up a more detailed picture of the area and its historic past.
Dr de Jersey said: "We have some good research on how our ancient ancestors buried their dead, but little evidence of how they lived.
"This is a poorly understood phase of Guernsey's history, so the airport site presents a welcome opportunity to improve knowledge of this period. From that perspective, it is very significant.
"By excavating the area we will be effectively removing whatever history lies underneath the current fields.
"However, in the historical context, the real value is in being able to document what is currently there and what that tells us about out ancient ancestors, rather than preserve it."
Pottery and flint was discovered in some of the 16 test pits, each 2 sq m in size (7 sq ft), dug when the initial investigations were carried out in March 2009.
Further trenches then uncovered evidence of settlement, including a number of ditches and pits, which could be associated with industrial processes.
Work in the field next to La Mare Road is due to start this week and last for six weeks.
Public Services will begin by removing the topsoil from eight large trenches across the site down to a level of about 50cm (20ins) below the current ground level. The previous finds were mostly found about 65cm (25ins) down.
Guernsey Museums staff and volunteers will then be able to excavate further to make a more detailed assessment of the area.