Richmond sand dunes stabilised by fences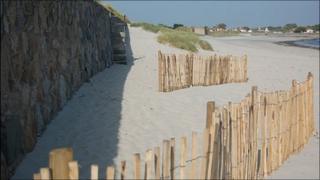 Work to stabilise sand dunes on Guernsey's west coast through natural means has entered its final stage.
Two small wooden fences have been put up near the sea wall at Richmond to try and help grasses establish in the area.
Jamie Hooper, from Environment Guernsey, said it was a method that had worked well in the past.
He said the dunes, which host their own ecosystem, keep the beach looking natural and stop the sand blowing off the beach at small expense.
Mr Hooper said: "There's a nice area of established dune grassland, but near the kiosk there isn't any grass.
"This area is heavily used by beach visitors, by walkers and the grass just hasn't had that chance to spread to this area.
"We've used these two rolls of fences to see if we can help it along its way."
He said similar fences had been used all along the dunes and have now been completely buried by the sand except for the odd post exposed on the seaward side during the winter.
Mr Hooper said: "The sand builds up around them, the grass is then established and they disappear, so that's what we're trying to do with this site.
"The way the Environment Department used to have to deal with the issue of windblown sand was to get the diggers in every year or so and drag the sand down the beach to the low water mark.
"We've done away with that need so there's no cost in terms of upkeep and the beach looks a lot more natural."
He said the dunes were important to the beach's ecology: "It affects the whole system. By taking it away with a digger every few years that's working against nature.
"The dune wanted to be here, it was here historically and it was lost when they built the seawall and the dune was just dragged away.
"It supports a whole host of species of grassland, wild flowers, butterflies and other insects in there, birds feeding on the seeds and a whole ecosystem that otherwise just wouldn't be here."