Delancey Park plans slowed by lack of funds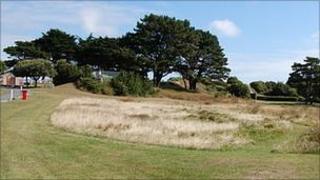 Work on new facilities at Guernsey's Delancey Park is expected to start in 2011, according to the group behind plans to regenerate the area.
The Board of Trustees of the Admiral de Saumarez Trust has just finished talking to stakeholders about what they would like to see at the park.
Among the 18 planned projects are a cafe and more playgrounds for children.
Chairman Alex Rodger said a lack of funds meant the projects were progressing slower than expected.
He said one of the group's main aims was to replace the memorial to Guernsey naval hero Admiral Lord James de Saumarez.
Mr Rodger said re-erecting the monument, which was destroyed in World War II, would be a real draw for tourists.
He said: "We've got to win support for funding and because of the current financial climate then that's proved harder than it might otherwise have been and as a consequence we've not been able to progress with the monument.
"That's not to say the monument won't get done but we may have to take a slightly different approach and play the long game rather than immediately."