Alderney's Braye Harbour sees largest ever ship dock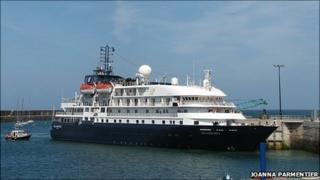 The largest ship ever to dock in Alderney has left Braye Harbour after a day visit.
The cruise ship, Island Sky, came alongside at the commercial quay at 1440 BST on Monday and stayed for just over three hours.
Steve Shaw, harbour master, said: "The redevelopment of the quay has allowed the opportunity to berth larger ships.
"The Island Sky at 90m (295ft) by 16m (52ft) will be the largest ship to have ever been berthed in Braye Harbour."
He said it provided an opportunity for smaller cruise ships to berth at the harbour.
"Hopefully create a window of opportunity for us to increase this business and thereby significantly contribute towards tourism on the island," Mr Shaw added.