Final public parade for 201 Squadron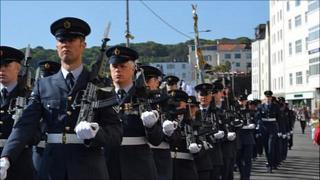 The 201 (Guernsey's Own) Squadron held a final public parade before it is disbanded under the UK defence review.
Seventy-five servicemen and women took part in the parade in the squadron's affiliated island.
The affiliation dates back to 1939 and has seen the squadron visit on a number of occasions being given the Privilege of Guernsey in 1994.
The squadron will join two others at its home base of RAF Kinloss for the official disbandment on 26 May.
The squadron, which dates back to 1914, has been involved in maritime reconnaissance for most of its history.
It was the first squadron to fly Nimrods and was involved in the roll-out of the new Nimrod MR4A.
That project was cancelled in October as part of the same UK government defence review that decided on the closure of RAF Kinloss and the disbandment of 201.